Leaders Are You Juggling The Glass Balls Of Life?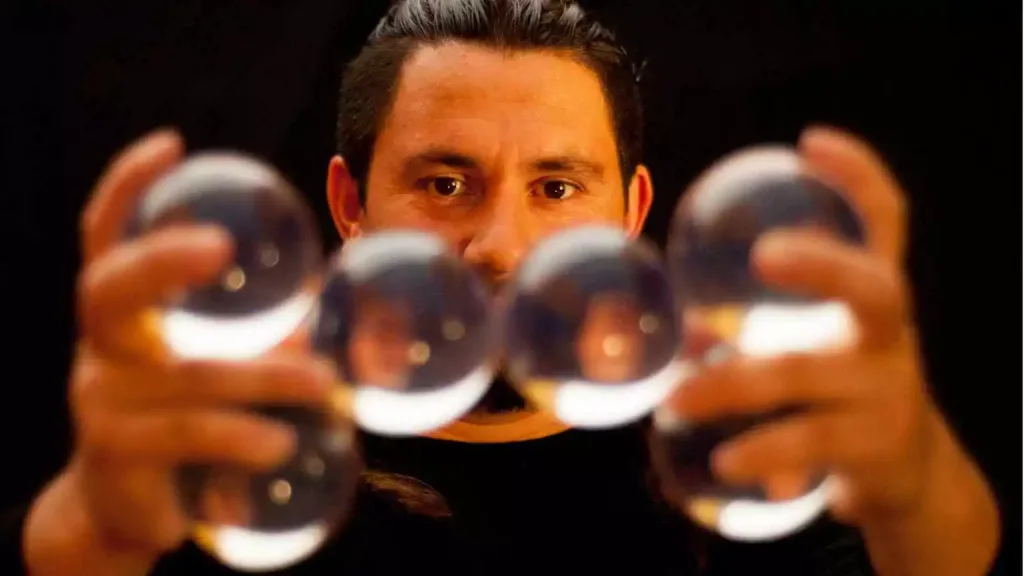 When leaders juggle the glass balls of family, health, career, relationships and spirit it's challenging. When one drops it is unwanted, uncertain, and unexpected; the impact can be shattering and can create emotional hijacking moments.
Leaders Juggling Glass Balls
You are capable of juggling your glass balls and have been juggling them for some time, but when one drops it happens out of the blue. Sometimes you find yourself needing a little help thinking through the fractured segments and emotional hijacking moments (those moments which catch you off guard and can change the direction of your life in some cases, forever). This is where a thinking partner can help you find new solutions from the shattered pieces and emotional hijacking moments.
When you look back and think about your family, health, career, relationships, and spirit; these glass balls are the most valuable balls you juggle. John Maxwell once wrote:
Family, health, friends, spirit … are valuable. It's important to give them higher priority so that they don't get damaged or destroyed.

John Maxwell
Providing your glass balls higher priority, is not a selfish act. It's a life sustaining one, which brings great value to your life.
When A Glass Ball Drops
The impact can be shattering and in some cases change the trajectory of your life. In your personal life it could be an unexpected death of a loved one, an uncertain diagnosis or disease, a friendship betrayal…or your spirit is lost. Some or all of these shattered pieces are unknowingly carried into your professional life; it's like wearing a backpack, whatever happens throughout the day, the good, the bad, and the sad finds its way in the backpack that you carry with you from home to work and back, daily.
When glass balls drop in your professional life, what does that look like? It could be the unexpected job or career loss, bullying or harassment, difficult hijacking moments or conversations…unethical behavior. How do you work through difficult hijacking moments whether they are in your personal or professional life?
Working Through Shattered Pieces
Emotional Hijacking Moments
Sometimes it's hard working through the shattered pieces. Always remember, you have a choice how you will work through these broken pieces or hijacking moments. I get it, sometimes it can be difficult you may find yourself wanting to resist working through the shattered pieces due to the pain of it all.
When you are ready to go work through emotional hijacking moments it may challenge you to your core. It may require finding support to get through the pieces; take your time and stay committed to your decision. Develop a simple strategy which helps you move forward one step at a time, this will help you see the progress you make.
Recognize there may be times when it feels like you are not making progress or you feel like you are going in the wrong direction, accept that you may have those days. Keep moving, even if it is slow at times don't stop! When you stop, you stay stuck, this adds to your own pain and suffering, an optional choice you make, you stay stuck wishing things were different.
When you accept the fact that one of your glass balls shattered, which can create an emotional hijack in your life, you recognize you can't change it. True, you may not be able to put the pieces back together completely or at all however; you can choose what you will accept, how you feel, your inner world, and your outlook on life. For more information about accepting your reality you may enjoy this article Gifts From Hijacking Moments and Bouncing Back.
As A Leader I Found Myself In This Common Group Of Leaders Juggling Glass Balls!
When my glass ball dropped (health – cancer diagnosis) I wanted to resist but I wasn't ready to give cancer permission to take over my life, I did not want to give in to this dreadful disease. I looked toward my family for support to get through those most challenging times that rocked my world to the core. I got through it with their help; we created a strategy I could use daily.
Yes, some days were more challenging and I felt like I was not making progress, but I kept at it. Each day I made progress I crossed that day off the calendar; over and done! At the end of each month I looked back at my progress and was motivated by the forward movement accomplished.
I looked forward to the next treatment; I know it sounds crazy but my strategy was to get past each day, one day at a time, no matter how difficult it was. I counted down the days until I reached the end of the first round of chemotherapy. On that last day, I knew a celebration was coming the following week when I felt strong enough to participate; it was my first joyous celebration of many as I progressed through the many challenging times from my shattered glass ball. As I worked through the remaining treatments, surgery, radiation, and later the lymphedema, I used the same strategy because, it worked and still does.
I decided to accept the fact that I could not change the disease or diagnosis. However; I could change my inner world, attitude and outlook on life. And, I did! I also decided I could benefit from the assistance of a thinking partner to help me think through things I did not have experience with, helping me see things from a different perspective.
A Thinking Partner
A thinking partner is just that, a thinking partner! Not a mentor, not an adviser, not a counselor or a therapist. A good thinking partner is curious, asks reflective questions, listens, helps you look at all the puzzle pieces on the table, and asks you to talk about each one to gain more clarity. Sometimes a thinking partner may notice a missing piece or pieces and ask more questions.
As an executive leadership coach I enjoy being a thinking partner for my clients. I invite you to decide on specific actions and outcomes you aspire to achieve. What differentiates me from other coaches, I use an inquiry approach to engage clients more fully at physical, mental and emotional levels to achieve breakthrough results.
I know you are capable of seeing things differently and finding new solutions however; there may come a time in your life when you need a little help thinking things through. A thinking partner helps you see things differently, realize and work through blind spots, find new solutions, and get better results based on what you value most.
Conclusion
Taking care of what's important to you, it is not a selfish act. It's a life sustaining one. Yes some days are more challenging than others, but don't give up! I know you are capable of seeing things differently and finding new solutions however; there may come a time in your life when you need a little help thinking things through.
I am my clients thinking partner, I coach the person not the problem. I am interested in reading your comments. Please share this article with your friends. If you would like to talk more about leaders juggling glass balls, hijacking moments…a thinking partner, schedule a time to chat.