Main Content
Leadership Coaching
and Custom Workshops for Individuals, Teams and Organizations!
Hello I'm Deb Olejownik! Are you looking to sharpen leadership skills?
Recently promoted? I can help!
Coach and Speaker
Leadership Coaching for Individuals Teams and Organizations transforms leaders lives by making small changes that produce BIG results.
---
Small changes are achieved with principle-based coaching, which engages HEART:  Habits, Engagement & Execution, Alignment, Resilience & Relationships, Trust & Teams, all which produce BIG results.
Author
Deb Olejownik, owner of Coaching with HEART is author of Bouncing Back! Overcoming Obstacles. Deb endured many obstacles at different stages of her life; as a result, she wrote this workbook. In her free-time Deb volunteers for The Stonebrook Project, a nonprofit organization serving people afflicted with cancer; making a difference until there is a cure.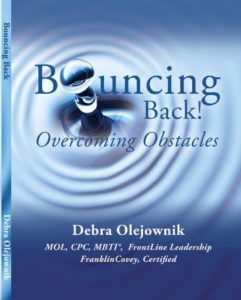 Order Book